Congratulations to the three students who received the State of Michigan Chapter of Phi Delta Kappa (PDK) scholarships this year. The scholarships were awarded at our Annual Dinner held at Gilbert and Blake's restaurant in Okemos on May 6.
Anna Bensel and Nicholas Iveson were awarded the chapter scholarships ($1,000) and Brianna Jones was awarded the Chapter Endowment Scholarship. Nick also received the Edna Wilhelmina Snell Nichols Endowed Scholarship from PDK International.

Anna BenselAnna Bensel is a graduate of Grand Ledge High School and just completed her fourth year of college at Cornerstone University with a 3.98 GPA. She completed two teaching practica last year  – one in a high school ESL classroom and the other at a charter academy, helping to teach Spanish to 4th, 5th and 6th graders. This fall, Anna is completing her student teaching in Spanish at Hudsonville High School and Baldwin Street Middle School (Hudsonville). She spent a semester studying abroad in Quito, Ecuador and has volunteered on several mission trips – one to Jamaica and one to the Quad cities area.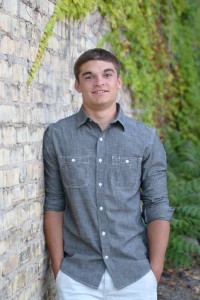 Nicholas IvesonNicholas Iveson graduated this year from Thornapple Kellogg High School with a 4.077 GPA. While in high school, Nick participated in the Teacher Cadet program and assisted in a middle school math classroom. He was a three-sport (football, wrestling and baseball) athlete and was also involved in Student Council, Young Life, National Honor Society and Teens against Tobacco. Nick is attending Central Michigan University this Fall.
Brianna Jones graduated from Martin Luther King Jr. Senior High School in Detroit with a 3.517 GPA. Her principal, Dr. Deborah Jenkins, and school counselor, Ms. Denise Barnes who accompanied her to the dinner, recommended Brianna for the scholarship.
We extend our congratulations and good luck to these future educators.