At our chapter's annual awards dinner on May 4, we honored three outstanding students. Cierra Crawley from Detroit Martin Luther King Jr. High School received our Foundation Scholarship of $1,000. Kayla Mantey from Spring Arbor University and Joshua Shank from the University of Michigan-Flint were the recipients of our chapter scholarships of $1,000 each.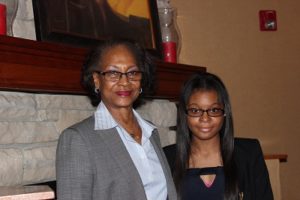 Cierra Crawley graduated from Martin Luther King Jr. High School in Detroit with a 3.62 GPA, despite the challenge of limited access to technology and the need to use flawed public transportation. She is now enrolled at Michigan State University, planning to study Secondary Education with a major in Social Sciences and a minor in Psychology. With a commitment to her goal to become an educator and work in an urban school environment, Cierra set upon her career path by volunteering to tutor underclass students at her high school.
Cierra credits her success to date to her principal, Dr. Deborah Jenkins; her counselor, Denise Barnes; and Mrs. Nesbitt, her English teacher. She believes that she can make a difference in the field of education by helping future students who have had life experiences similar to hers. Cierra also believes, as stated by Dr. King, "the function of education is to teach one to think intensively, and to think critically. Intelligence is character, that is the goal of true education".
Kayla Mantey, a graduate of Armada High School, is currently a senior music education student at Spring Arbor University with a 3.9 GPA. A gifted signer, Kayla participates in the school's choir and honors program, and works in the A-V department. She co-directs a home school choir, worked as a counselor at a summer camp and volunteers at her church.
Kayla wants her classroom to have an inviting atmosphere where students know and feel comfortable with one another. She wants students to look forward to choir as a chance to sing beautiful music with friends, increase their self-confidence and worth, and leave in a better mood than the one with which they entered.
Joshua Shank is a senior at the University of Michigan-Flint (3.85 GPA) who plans to be a secondary education French teacher. He is a graduate of Lakeville High School where he studied both French and Spanish. During his high school years, he was dually enrolled at the University of Michigan-Flint and Mott Community College. He has worked as a French tutor and in a small business to pay for his school expenses.
His high school French teacher's passion for foreign language and dedication to her students influenced Joshua's decision to become a teacher. He believes that by teaching students a foreign language, they not only learn a new language, but it helps them to broaden their cultural tolerance, eliminate any stereotypes and prejudices they may have and think critically. Joshua looks forward to sharing his passion for French with his students and helping them become empathetic, tolerant, critical thinkers and positive members of society.
Be sure to check our website pdkmi.org for the 2017 Scholarship Application which will be available in January and encourage any qualified high school or college students to apply. The application deadline is March 1, 2017.